Some networks may not allow for devices to passthrough with the basic setup and will require you to allow the Steak Locker MAC address to be a whitelisted device on your network.
Finding the MAC address
Connect to the "🐮 Steak Locker" wifi network
Locate the MAC address below the fields for "Network Details"
Tap the MAC address to copy and paste to your iPhones clipboard
Provide this MAC address to your system admin.
Whitelist your MAC Address
Please note that every router will have different step by step procedures or terminology but the outcome is the same. Please consult your routers user guide or manual to find the appropriate locations for applying this MAC address to your routers whitelist.
Example TP-LINK
Step 1
Open the web browser and type http://tplinkwifi.net or IP address in the address bar (default is http://192.168.0.1 or http://192.168.1.1). Press Enter. The username and password are both "admin".
Step 2
Go to IP & MAC Binding->ARP List page, you can find the MAC address of the all the devices which are connected to the router.
Step 3
Go to Wireless->Wireless MAC Filtering page, click the Add New button.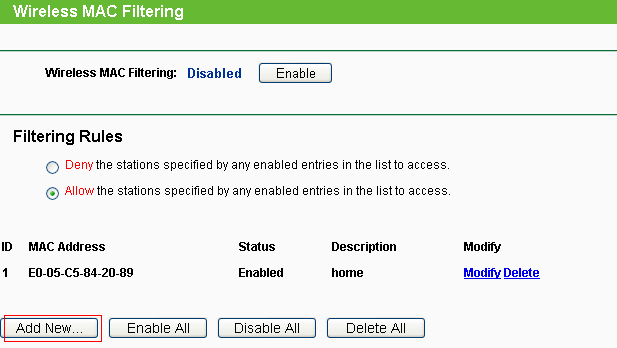 Step 4
Type in the MAC address you want to allow or deny to access the router, and give a description for this item. The status should be Enabled and at last, click the Save button.
You need add items in this way one by one.
Step 5
At last, about the Filtering Rules, please choose Allow/Deny and Enable the Wireless MAC Filtering function.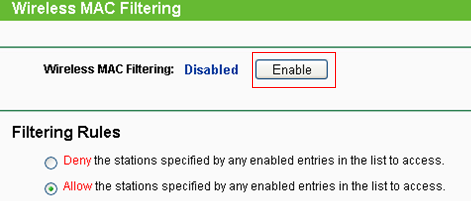 https://www.steaklocker.com/wp-content/uploads/2020/03/logo-header.png
0
0
Gus Aguirre
https://www.steaklocker.com/wp-content/uploads/2020/03/logo-header.png
Gus Aguirre
2018-05-14 21:08:47
2018-05-14 21:08:47
Whitelisting a MAC address